Saad & Trad expertise covers almost all car segments and currently has the following representations:
At Saad & Trad we are always eager to invest in newer equipments, facilities and human resources to provide the highest quality of sales and after sales service in accordance with international standards.
A thirty year old businessman, Robert Trad first saw a picture of a Jaguar XK 120 on one of his trips. Being a racecar driver himself he fell in love with the car and decided to import the brand to Lebanon. After meeting with Sir William Lyons, Jaguar's founder, in Conventry Trad obtained in 1950 the rights to distribute the brand in Lebanon becoming the first international Jaguar dealer.
In 1955 together with Ibrahim Saad formed the company Saad & Trad. Their first showroom was opened in Khan Antoun Bey, downtown Beirut. Robert Trad, with a background of international business and affection for cars stemming from the days of car racing, continued to develop the business and Saad & Trad became one of the most respected names in the car industry in Lebanon with a reputation for integrity and quality of their product.
In 1960, the two businessmen imported the first Bentley in Lebanon, adding the Bentley name to Saad & Trad S.A.L, expanding further their market, attracting customers from all over the Middle East to own those exclusives cars. The company by now had already moved their business to Ain el Mreisse district and with names like Jaguar and Bentley, continued to prosper.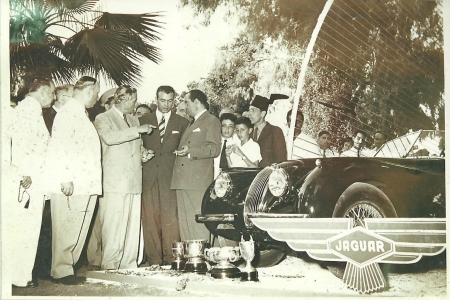 The onset of the civil war, however would change that. After eight years of steady business from 1975 to 1983 the war finally took its toll. The situation in Lebanon made it nearly impossible to conduct business on a daily basis as the lives of the Lebanese were always at risk.
The end of the war in the 1990's saw the business take off again and this was demonstrated with the addition of Automobili Lamborghini in 2003 to the Company name. Adding the Italian supercar manufacturer to the group was a reward for their hard work and dedicated commitment to the products and their customers.
Today the company is proud to be the oldest internationally appointed dealer for Jaguar. With its commitment to its brands and to its customers Saad & Trad acquired a strong and respected market presence that allowed continued growth.