Featured: The Lamborghini Huracan EVO
Automobili Lamborghini presents the new Lamborghini Huracán EVO: the next generation V10 super sports car, based on the prowess and performance of the Huracán Performante and incorporating next-generation vehicle dynamic control and aerodynamics.
"Lamborghini is intent on leading the advance to the highest level of super sports car technologies and driving emotion. This is the essence of the new Huracán EVO. It takes the extraordinary abilities of the Huracán Performante and combines state-of-the-art vehicle dynamic control to amplify the everyday Huracán driving experience," says Stefano Domenicali, Chairman and Chief Executive Officer of Automobili Lamborghini. "The Huracán EVO is the very definition of evolution: it is a step ahead, redefining the segment parameters. It is remarkably easy to drive, while delivering the most responsive, sensory and agile driving experience, in every environment."
The Huracán EVO features the 5.2 l naturally-aspirated Lamborghini V10 engine, uprated to produce higher power output and an emotional and powerful sound, with Titanium intake valves and refined lightweight exhaust system. The Huracán EVO outputs 640 hp (470 kW) at 8,000 rpm with 600 Nm of torque delivered at 6,500 rpm. With a dry weight of 1,422 kg the Huracán EVO reaches a weight-to-power ratio of 2.22 kg/hp, accelerates from 0-100 km/h in 2.9 seconds and from 0-200 km/h in 9.0 seconds. Braking from 100 km/h to 0 is achieved in just 31.9 m, with a top speed of more than 325 km/h.

The Huracán EVO features new Lamborghini rear-wheel steering and a torque vectoring system working on the four wheels, while at the heart of the car is the new feature of Lamborghini Dinamica Veicolo Integrata (LDVI): a Central Processing Unit that controls every aspect of the car's dynamic behaviour, fully integrating all of the car's dynamic systems and set-up to anticipate the next move and needs of the driver, interpreting this into perfect driving dynamics.
Saad & Trad SAL
With more than 60 years of experience in the automotive business, Saad & Trad has established itself as one of the leading names in the market with its dedicated commitment to its products and to its customers.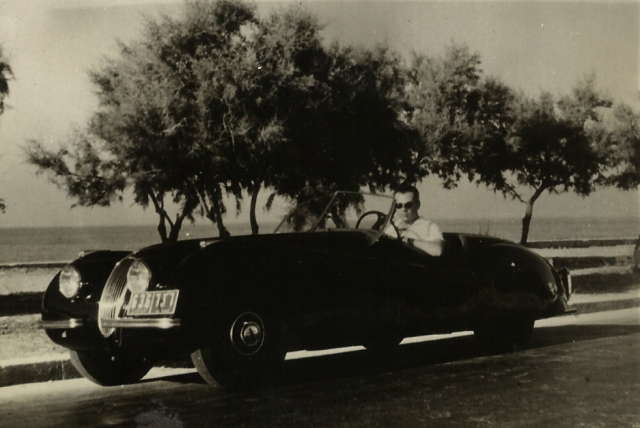 Saad & Trad is committed to its products and has invested in equipment, facilities and human resources to provide the highest quality of sales and after sales service. You will be warmly welcomed.
We also invite you to explore our website or better yet, come visit one of our showrooms.
It all started like this…
A thirty year old businessman, Robert Trad first saw a picture of a Jaguar XK 120 on one of his trips. Being a racecar driver himself he fell in love with the car and decided to import the brand to Lebanon…